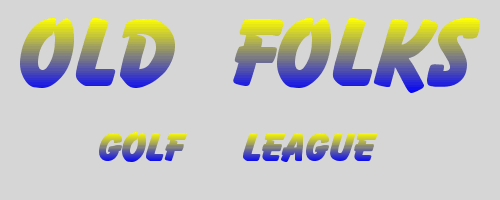 ---

---
OLD FOLKS GOLF LEAGUE - R.I.P.
I regret to inform you that i cannot recruit enough members to form the OLD FOLKS LEAGUE for the 2021 season.
The League had a nice long run - 61 years - but all good things must come to an end.
Have a nice summer, keep in touch, and perhaps we will play some golf together this year.



---


I stopped at Carl Compo's house on Sunday because i saw 2 people doing yard work.
They said that Carl is in a nursing home in North Carolina. He has dementia.




---
FINAL HANDOUT WITH PRIZE MONEY
---
---


The address of the OLD FOLKS web site is:
oldfolksgolf.org
Note: the domain is "dot org" not "dot com."
You can also access it from the TWIN PONDS web page - there's a link in the GOLF/LEAGUES page.



---


The OLD FOLKS play at TWIN PONDS GOLF & CC
in NEW YORK MILLS, NEW YORK
on Wednesday afternoons at 3:30pm.
Here is a link to the course:

TWIN PONDS GOLF & CC


---
---
---