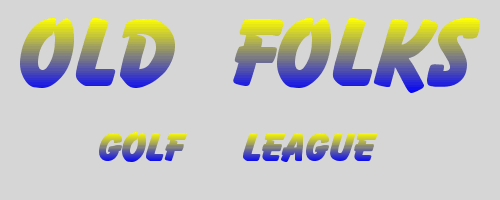 ---

I am glad we had an OLD FOLKS season this year.
It has been fun and, with any luck, we will have another in 2021!

A couple things to consider for 2021:
can we recruit a couple more members
return to 2 outings next year but 2 outings would require higher dues
eight of our ten current members will be retired by next summer,
any interest in a morning tee time and how would that affect the 2 guys that still have jobs?


---


Treasurer's Report:
Fifteen dollars remain in the treasury.
That amount is Joe Paciello's end-of-year prize money.
When that money is distributed, the Treasury balance will be ZERO.


---
FINAL HANDOUT WITH PRIZE MONEY
---
NEW MEMBERSHIP OFFER AT TP

TWIN PONDS has announced the MEMBERSHIP offer for years 2021 and 2022.
The 2 year membership will cost $198.00 and you can sign up now.
Our current 3 year deal expires at the end of this season.


---


Results for Week 16 are now available.
The MATCHES link has your ending handicaps.

Click the link below to see who won low net and net skins in our final week.
Winners are highlighted in red.

NET SKINS RESULTS


OUTING RESULTS
CARLOWDEN OUTING RESULTS
---


A "putted" ball will be considered "holed" if it hits the pin or touches the foam surrounding the pin.
If you hit the pin from off the green (not a putt), players must agree that it would have dropped but for the sponge.



---
DUES, LEAGUE GREEN FEES, CART FEES
Green fees - $9.00, same as last year, multiplied by 16 weeks = $144.00;
Cart fees - $9.00, same as last year;
Dues - $106.00 for 2 outings - a low estimate, may need more if outings cost more;
Total Cost - $250.00 which does not include cart fees that are paid in the pro shop.
Pay dues to Sonny - NOTE WELL: we closed the OLD FOLKS checking account so do not use OLD FOLKS GOLF LEAGUE as the payee on checks.


---
FORMAT
Head to head, cut-throat, whatever you want to call it - same as last year
One point per hole match play, 2 points low net score - same as last year
No subs - opponent selected at random and match cards - same as last year



---
RULES
OUT OF BOUNDS: Drop at point of entry, penalty one stroke.
SAND TRAPS: Ground Under Repair, free drop behind trap


TO REPEAT
Golf matches are scored in the usual manner:
Match play: head-to-head against your opponent, one point per hole, with handicap;
Medal play: two points to the man with the lower net score for 9 holes;
Therefore an individual player can win a maximum of 11 points.

If a player is a no-show, his sub will be picked at random
and scorecards will be matched to determine point totals.
There is no point penalty for being absent
but the absent player is still responsible for green fees.




---


The address of the OLD FOLKS web site is:
oldfolksgolf.org
Note: the domain is "dot org" not "dot com."
You can also access it from the TWIN PONDS web page - there's a link in the GOLF/LEAGUES page.



---


The OLD FOLKS play at TWIN PONDS GOLF & CC
in NEW YORK MILLS, NEW YORK
on Wednesday afternoons at 3:30pm.
Here is a link to the course:

TWIN PONDS GOLF & CC


---
---
---