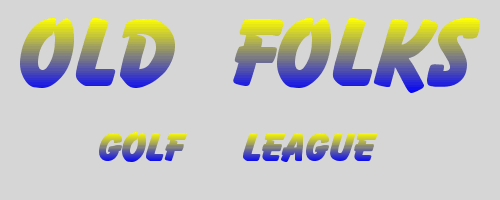 ---

Congratulations to our 3 winners: Tim Corey, Dan Kenney, and Joe Paciello.

END OF YEAR RESULTS


OUTING
Results: Kantor's team won total score as well as the par 3's and par 5's.
Corey's Team won the par 4's.
Skins: 6 out, 3 for Kantor's team( #8, #14, #15); 2 for Corey's team(#2, #10); 1 for Britton's team(#4).
CTP: Britton's team on #3 and Kantor's team on #6.

CAZENOVIA RESULTS

CAZENOVIA FORMAT


---
PINE HILLS RESULTS
PINE HILLS FORMAT
---
REVISED RULES
PONDS on BACK 9:

If you play from WHITE tees: if tee ball lands in pond, penalty one stroke and re-tee from WHITE tees.
If you play from GOLD tee on #13: if tee ball lands in water, penalty one stroke and re-tee from GOLD tee.
If you play from GOLD tee on #17: DO NOT use the GOLD tee, tee-off from the LOWER or RED tee, skip the GOLD.

The pond immediately in front of and along the sides of the 17th green: if your APPROACH shot lands in the water,
go to the OLD FOLKS "drop zone" at end of pond on left, take a one shot penalty and chip onto the green.
NOTE: An APPROACH shot is not hit from a tee box.

OUT OF BOUNDS: Drop at point of entry, penalty one stroke. Opponent must agree with spot.

SAND TRAPS: depending on condition of trap: free drop out of trap OR rake and replace OR play it as it lies.

Golf matches are scored in the usual manner:
Match play: head-to-head against your opponent, one point per hole, with handicap;
Medal play: two points to the man with the lower net score for 9 holes;
Therefore an individual player can win a maximum of 11 points.

If a player is a no-show, his sub will be picked at random
and scorecards will be matched to determine point totals.
There is no point penalty for being absent
but the absent player is still responsible for green fees.




---


Green fees are $9.00 for nine holes.
Cart fees are $9.00 for nine holes.
There are 19 Wednesdays from May 1st through September 4th.
Pay the Treasury 9 x 19 = $171.00 for green fees plus $200.00 in dues for a total of $371.00.
Sonny will accept checks made out to OLD FOLKS GOLF LEAGUE but cash works too.
He will pay TWIN PONDS the green fees for the entire League each Wednesday with one check.
You must pay TP for your cart in the pro shop.

League officers are the 3 members with the longest seniority:
Sonny is Treasurer, Lupinski is President, Kubat is Secretary.
Our scheduled tee time is 3:30pm.
However, high school teams will be playing throughout the month of May so expect delays.

The age for playing the GOLD tees remains at 75 - 3 men are eligible.


---


The address of the OLD FOLKS web site is:
oldfolksgolf.org
Note: the domain is "dot org" not "dot com."
You can also access it from the TWIN PONDS web page - there's a link in the GOLF/LEAGUES page.
If you have the old copy of a page in the right frame after clicking a link,
your browser did not fetch the update - right-click in the right frame and click REFRESH.
That should update your page if a new one is available.
Or it might be quicker to find the REFRESH icon and click that.
The REFRESH icon is a broken circle with an arrowhead in the 12 o'clock position.
WINDOWS 10 users: a right click in the right frame does not give you a refresh option.
You must find the REFRESH icon.


---


The OLD FOLKS play at TWIN PONDS GOLF & CC
in NEW YORK MILLS, NEW YORK
on Wednesday afternoons at 3:30pm.
Here is a link to the course:

TWIN PONDS GOLF & CC


---
---
LEAGUE OFFICERS - 2019
PRESIDENT:
LUPINSKI
TREASURER:
SONNY
SECRETARY:
KUBAT
---