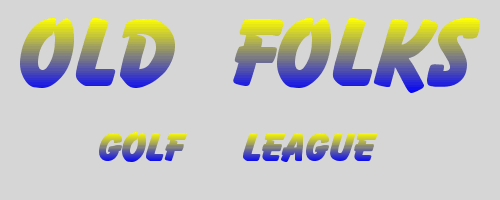 ---
The 2021 season begins on APRIL 28 - only
days left.

---
The winter months are flying by and another golf (OLD FOLKS ?) season is just around the corner.
A couple of former members passed away this winter: Pete Buddle (85) in December and Ed Jachim (94) in January.

Ed Dobyna has dropped out of the League after one year.
Mike Careau thinks that both of his bionic shoulders have healed enough to return.

I just heard that Bob Walsh took a fall and messed up his shoulder / rotator cuff.
Just how bad and whether his golf season will be impacted remains to be seen.

I still owe Joe Paciello 15 dollars from the 2020 season.



A couple things to consider for 2021:
can we recruit a couple more members
return to 2 outings next year but 2 outings would require higher dues
eight of our ten current members will be retired by next summer,
any interest in a morning tee time and how would that affect the 2 guys that still have jobs?


---
FINAL HANDOUT WITH PRIZE MONEY
---
---


The address of the OLD FOLKS web site is:
oldfolksgolf.org
Note: the domain is "dot org" not "dot com."
You can also access it from the TWIN PONDS web page - there's a link in the GOLF/LEAGUES page.



---


The OLD FOLKS play at TWIN PONDS GOLF & CC
in NEW YORK MILLS, NEW YORK
on Wednesday afternoons at 3:30pm.
Here is a link to the course:

TWIN PONDS GOLF & CC


---
---
---